In the race for smart speaker supremacy, Google has always felt a step behind. When the original Google Home device hit the market, Amazon already had two years on them with their Echo. And now 18 months after Amazon launched their miniaturized Echo Dot, Google has countered with the Google Home Mini. It's a delightful smart speaker that can do things Amazon currently can't, but is it too late to catch up?
For those familiar with the Google Home smart speaker, the Mini will feel familiar. It has all the same functionality, just in a smaller size. You can play music, ask it for help, and use it as a personal assistant. Of course you'll also be able to integrate other smart home products into it for voice controls. And the new compact design allows for it to be priced at under $50, a significant decrease from it's $129 companion.
Design chooses form over function
From a purely aesthetics point of view, the Google Mini is an attractive smart speaker. It's approximately half an inch wider in diameter than the Echo Dot and chooses a fabric exterior that gives it a more subdued look. The fabric comes in black (charcoal), light gray (chalk), and orangish-red (coral) colors that would blend in to any home decor. The only issue you may run into with the cover is the fabric attracting dust.
The Google Home Mini uses four multi-color LED lights on top to guide you through what's happening. They light up to when adjusting volume, when the device is muted, or when you've awoken it to give it a command. While we love the more subdued look of the Mini, the four dotted lights on top feel too subdued.
While it looks great, the physical controls were frustrating. Volume is controlled by touching the left or right side of the device. This is a fine choice but they are extremely sensitive to touch. Bumping it or moving the device will inevitably trigger this function. And with the mute switch on the bottom, you're going to run into this issue each time you flip your Mini over. The mute switch is another issue since you can technically mute the device with voice controls. So sometimes the mute switch is in the on position while it's in the mute setting. There is a top button that was supposed to allow you to trigger things like Google Assistant, but it's been permanently disabled by Google after some privacy concerns arose before launch. The good news though is that these smart speakers are meant for voice control, so the physical buttons are not a huge concern.
Powering the Google Home Mini is a micro USB cable that comes with the device. There is no internal battery so you will need to have it plugged in to work. Unfortunately unlike the Echo Dot, the Mini does not have a 3.5mm audio output for headphones or external speakers. The device connects using 802.11b/g/n/ac (2.4GHz and 5GHz) wi-fi as well as Bluetooth 4.1 and built-in Chromecast Audio.
Sounds better than it listens
A common issue with smaller speakers is they tend to sound hollow and tinny. The Google Mini tries to break that mold with it's 1.57″ speaker driver that provides 360-degree sound. The sound is a considerable upgrade over the Echo Dot and can put out some decent volume for its compact size. Music sounds smoother and actually provides a little bit of bass. While I wouldn't use it to replace a larger audio system, I think it's perfectly acceptable in smaller rooms.
Despite its higher quality speaker, the Google Home Mini is limited in what can be connected to it. Without the 3.5mm audio output, you can't attach headphones or speakers directly. And while Bluetooth capability allows the speaker to play music from your phone, it doesn't allow for connection it to a Bluetooth speaker like the Echo Dot does. It does support Cast-enabled speakers (both built-in and Google Cast for Audio dongle), but that's a limiting factor for those who want to use it primarily as a music playback device.
As a listening device, the Mini features two-far field microphones that do a nice job of picking up your voice even in a noisy room. With a normal speaking voice, I could connect consistently at up to 25 feet. It didn't quite have the range of the Echo Dot, but it's awfully close. It did however understand me better when I didn't pronounce a word properly or mumbled through a command. Perhaps that's the benefit of having a strong search engine at it's back that could decipher what I was probably asking it.
Despite it's consistency in picking up my voice commands, it didn't hold up well during phone calls. Whether this is a connectivity or microphone issue is uncertain, but my voice on the other end of the call would be spotty and muffled. It sounds a bit like how old speakerphones in the 90's did. Hopefully a software update can fix this as using it for calls is something we looked forward to.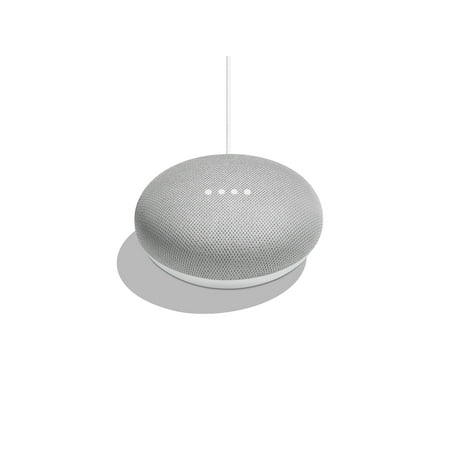 Google Assistant is pretty amazing
The best thing going for Google in the smart home industry is their Google Assistant. It's not only incredibly smart, powerful, and highly customizable. Perhaps it's most important feature is the ability to distinguish between different voices. Set up for this takes but a minute and it'll recognize who's calendar your setting an appointment for or who's sister it's calling by the sound of your voice. A huge advantage if you have multiple users in the same household.
With Google's wealth of knowledge at it's back, it's also great at answering questions you may have about anything. It can give you the score of your favorite sports team, read out the ingredients on a cocktail, even give instructions for how to jump a car battery. While Alexa can provide some guidance to questions, it's just outclassed by the Google Assistant.
The more entrenched you are in Google's ecosystem, the more you'll get out of the Assistant. As someone who already uses Gmail, Calendar, Allo, Maps, Music and a slew of other services, it really was able to shine. It could give me flight details and find a list of Italian restaurants in my neighborhood. It had learned my route to work and could give me traffic updates on my morning commute. It could read off upcoming appointments on my calendar, give me weather alerts, and update me on local news stories. It'll even find your phone if you've misplaced it. It's just an incredible tool to have at your disposal.
One negative is that the Google Home Mini doesn't work with G Suite. This is a glaring hole for people who want to use their work accounts with it. It's even more perplexing because G Suite can be used with Amazon.
Still catching up in compatibility
With a few years head start in the smart speaker game, Amazon understandably has more devices that it's compatible with. But that gap is shrinking and we think within the next year or two, it'll be equal.
Despite being behind, Google is still no slouch when it comes to what it is compatible with. It's syncs with smart home devices from Philips, Nest, Belkin WeMo, ecobee, Honeywell, Iris by Lowe's, Wink and many more. Light bulbs, security systems, smart plugs, sprinkler systems and even washing machines can be used. It's best to look at your existing devices to see if it will work before purchasing, but if you're dealing with a name brand, it's likely to be compatible.
The Home Mini also measures up well with popular services. On the music end you have Google Play Music, Spotify, Pandora, and YouTube Music. There are voice commands to request songs, artists, or albums. You can shuffle, skip, adjust volume, or ask what song is playing. You can access news through the New York Times, CNN, Wall Street Journal and a bunch of other popular media outlets. Tasks are constantly being added like being able to order an Uber ride or Dominos pizza with your voice.
As a Chromecast user, the Google Home Mini allowed me to broadcast video content to my television. While I primarily used it to put up a specific YouTube video I wanted to see, there are also other partners being supported. You can link up with Netflix, CBS All Access, HBO Now, Viki, and Crackle. Unfortunately, most of these video apps were light on what you could control. For instance on Netflix, I could ask the Google Assistant to play a specific show, but not which season or episode I wanted to see. Hopefully as these apps will add more functionality down the road. For now, I'm mainly using the Google Home Mini to pause shows when I need to hit the bathroom.
Conclusion
The Google Home Mini matches up well with the Amazon Echo Dot. It really comes down to what you want out of it. The Google Home Mini provides a better speaker, has a better Assistant, is more helpful if you're using Google services. The Echo Dot on the other hand is compatible with more smart home devices, has more apps (skills), and is quite handy if you shop at Amazon on a regular basis.
There is a thought that Amazon's lead in market share will cause companies to focus more on the Echo system than Google or even Apple. I still think it's too early for that. The Google Home Mini is a great little smart speaker and if you can catch it on one of their sales (it was under $30 on Black Friday), it's a fantastic deal. Google has some work to do if they want to catch Amazon, but the Mini is a decent starting point.
Summary
The Google Home Mini is a worthy challenger to the Amazon Echo Dot that will work great for those already in the Google ecosystem. But if it wants to pass the Dot, it's going to need to offer up a bit more.
Pros
Good sound despite its small size
Can differentiate voices
Google Assistant is in a class by itself
Cons
Phone calls were not as clear as we'd like
No audio jack or ability to connect to Bluetooth speaker